So, we decided to be a little swank and host a few friends for cocktails this past weekend. Although our bar was the main focus of the evening, I did get the opportunity to try a few new things in the kitchen. Somethings turned out fantastic, others were so-so. I made a pretty kickass punch and Costco meatballs were a hit as usual. Unfortunately, my first attempt at gougeres left a little to be desired and Splenda-fied cupcakes were sucktacular.
Do you love my garland? And the reflection of my tree? I think there's food in the photo somewhere.
The menu:
Roasted corn and bacon gougeres. These were good but not quite as airy and puffy as I expected. They tasted like fluffy quiche filling.
Caramelized onion and blue cheese squares (recipe below). Looked horrendous, but were great if you like blue cheese.

Crab dip (recipe below). Not surprising for an MD party, the bowl was practically licked clean.

Pita chips with hummus and red pepper spread
Barbecue meatballs

Crudite with a lemony herb dip
Cheese plate (smoked gouda, brie and an interesting cheddar-like stuff with sun dried tomatoes, crackers, apple, figs, salami and prosciutto)
Linzer cookies . Total pain in the ass recipe. I do not recommend making these if you are a normal human being with a normal level of patience, but they were pretty.

Creme de menthe brownies (recipe below)
Strawberry cupcakes with Splenda. Yuck. I won't even bother you with a recipe.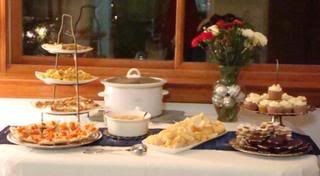 Same food, only a closer, grainier picture. Yeah, I'm still playing with my camera . . .
Caramelized Onion and Blue Cheese Squares


(Top and bottom tiers)
Ingredients:
1 ball of pre-made pizza dough, left out at room temp for an hour or so

2 tablespoons (1/4 stick) unsalted butter
2 tablespoons olive oil
3 large onions (about 2 pounds), halved, thinly sliced
1 tablespoon finely chopped fresh rosemary
1 teaspoon sugar
1/2 teaspoon salt
1 1/2 cups (about 6 ounces) crumbled blue cheese (I used Roquefort)
Directions:
Preheat oven to 425 degrees. Roll out dough on floured surface to shape of baking sheet. Spray baking sheet with non-stick spray, smooth dough out on to it. Bake until not quite brown, about 10 minutes.

While dough is in oven, begin to caramelize onions*. Melt butter and oil in skillet over high heat. Add onions, cooking until soft and beginning to brown. Add rosemary, sugar and salt. Reduce heat to medium and continue cooking onions until completely browned, about 20 more minutes.

Top dough with onions and sprinkle blue cheese over top. Bake in oven until cheese is good and melty, about 10 minutes
*To save time, you can caramelize the onions the night before, then just top dough and toss in oven before guests arrive.
Decadent Crab Dip
You would think that as a Maryland native, I would already have a crab dip recipe ingrained in my skull. However, I've actually been a little intimidated to make anything crabby. Here in MD, you are judged on your crab dip and crab cake skillz and that is a lot of pressure. Finally, I got up the courage to ask my fabulous Uncle Bill for his popular recipe. Turns out that it's so easy there's barely a "recipe" per se.
Note: I was a little scared of the canned crab but it was actually pretty good. Feel free to try with fresh crab if you'd rather.
Ingredients:
1/2 stick butter
1 shallot, finely diced
2 garlic cloves, minced
2 packages cream cheese
1 pound lump crab meat (I used Phillips in the black can)

1-2 tsp Worcestershire sauce
Old Bay seasoning
2 handfuls of shredded cheddar
Directions:
Preheat oven to 350*.

Melt butter in skilled over medium heat. Add shallots and garlic and cook until translucent.
Add cream cheese and stir until softened. Fold in crab.

Add Worchestershire and Old Bay to taste. I probably used about a teaspoon of each.

Toss in one handful of cheddar and combine.

Transfer mixture to small baking dish. Top with remaining cheddar and sprinkle with Old Bay. Bake until bubbly. Serve with sliced baguette. Inhale.

*Ingredients can be heated and combined ahead of time, then baked right before guests arrive.


Creme de menthe brownies


Ingredients:
First layer:
Brownie mix, prepared and baked according to directions.
Second layer:
1/2 cup butter
2 cups powdered sugar
2 tablespoons creme de menthe
Third layer:
6 oz (half a smallish bag) chocolate chips

6 tablespoons butter
First Layer: Bake brownies according to directions. Cool completely
Second Layer: Combine 1/2 c. butter, powdered sugar and creme de menthe. Beat well. Pour over the cake layer and chill until firm.
Third Layer: Melt together the chocolate chips and remaining butter. Pour over cooled second layer. Chill until the chocolate sets.
Cut into 1" squares (they're pretty rich).