Such an oddly delightful combination! Beets and goat cheese atop fresh greens with a tangy dressing make for a great summer salad (
Corduroy's
version with carrots is particularly good), but I was looking for something a bit cozier this time of year. This isn't much of a recipe, I admit, but it's definitely something I'll be making for falls and winters to come.
Roasted Beets with Goat Cheese
Serves 4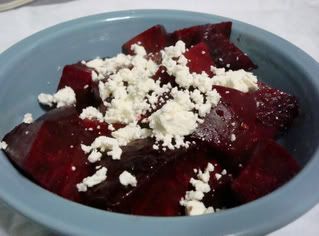 Ingredients:
3 medium sized beets (baseball to softball size)
olive oil
balsamic vinegar
salt and pepper
crumbled goat cheese
Directions:
Preheat oven to 400 degrees. Scrub beets, wrap tightly in foil and place on baking sheet in hot oven. Bake for about an hour, until they can be pierced through with a fork.
Set aside to cool for a few minutes. As soon as your hands can stand it, peel and cut beets into chunks. Oh yeah, and also - your hands will get slightly stained. Just slightly. Not too bad. It's worth it.

Place beet chunks in bowl and sprinkle with oil, vinegar, salt and pepper. Toss and top with goat cheese.