Indecisive by nature, when I came to the realization that I had both goat cheese and pumpkin on hand to fill my ravioli, I had a rough time making a choice. Variety (and sage, in this case) being the spice of life, I went for the gusto and whipped up both. The sweet pumpkin was a great counter to the tangy goat cheese, although honestly I'd probably eat anything smothered in browned butter and accented with crispy fried sage.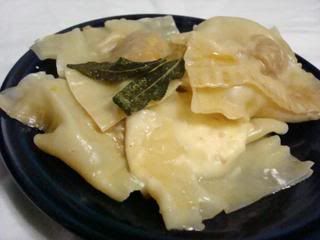 Pumpkin Ravioli and Goat Cheese Ravioli with Brown Butter and Sage
Makes about 30 large ravioli
Ingredients:
For pumpkin filling:
¾ c. pumpkin puree (NOT pumpkin pie filling)
1 tbs. bread crumbs
1 tbs. grated parmesan
½ tsp. fresh sage, chopped fine
salt and pepper
pinch of nutmeg
For the goat cheese filling:
4-5 oz. soft goat cheese
1 tbs. bread crumbs
½ tsp. fresh sage, chopped fine
salt and pepper
1 package spring roll wrappers
1 beaten egg
3 tbs. butter
8 fresh sage leaves
Directions:
Combine all pumpkin filling ingredients in a small bowl. Combine all goat cheese filling ingredients in a separate bowl.
To make the spring roll wrappers the perfect size for ravioli, take a stack and cut them in half down the center to create pieces that are about 2 inches by 4 inches.
Fill wrappers. Place about a tablespoon of either filling (avoid the impulse to overfill!) towards the bottom of the wrapper. Brush surrounding edges with egg wash. Fold top half over and crimp edges with a fork. As you finish the ravioli, set aside on a cookie sheet lined with parchment.
Bring large pot of salted water to boil. Melt butter in large skillet over medium heat. When butter has melted and begins to turn golden add sage leaves and fry until they are crisp and butter is brown.
When water comes to boil, add ravioli and cook in batches for just a few minutes each. As they finish, scoop out of pot with strainer and add to skillet with butter. Toss to coat.