Lots of thanks to
Kristy
for turning me on to this recipe! I believe she found it through
Simply Recipes
, but I used the
Epicurious
version. I was a little intimidated by the amount of curry, so I reduced it to 1/4 tsp. Chris and I both thought it was perfect! A little different than ordinary cranberry sauce, but not so different that you'll ruffle the feathers of Thanksgiving traditionalists.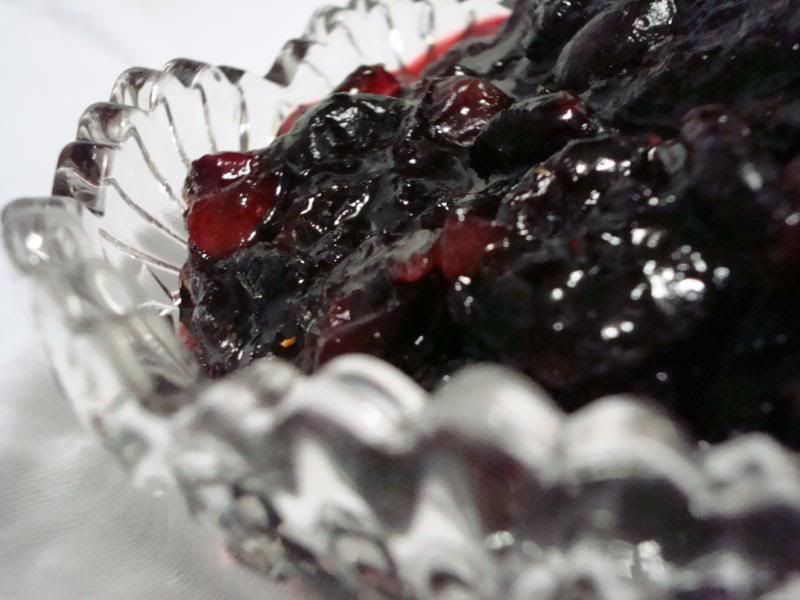 Cranberries in Pinot Noir
Ingredients:
1 tablespoon vegetable oil
2 cups cranberries (about 8 ounces)
1 tablespoon minced fresh ginger
2 cups Pinot Noir or other dry red wine
1 1/2 cups sugar
3 tablespoons chopped crystallized ginger
1/4 teaspoon curry powder
Large pinch of Chinese five-spice powder
Directions:
Heat oil in large saucepan over medium-high heat. Add cranberries and fresh ginger; stir until cranberries begin to burst, about 3 minutes.
Add wine and sugar; boil until mixture is reduced to 2 1/2 cups, about 15 minutes.
Add crystallized ginger, curry powder and five-spice powder.

Serve sauce cold or, if desired, rewarm over low heat, stirring often. Can be made 3 days ahead and stored in fridge.