This meal may or may not have been inspired by a recent trip to Cracker Barrel. Don't judge me.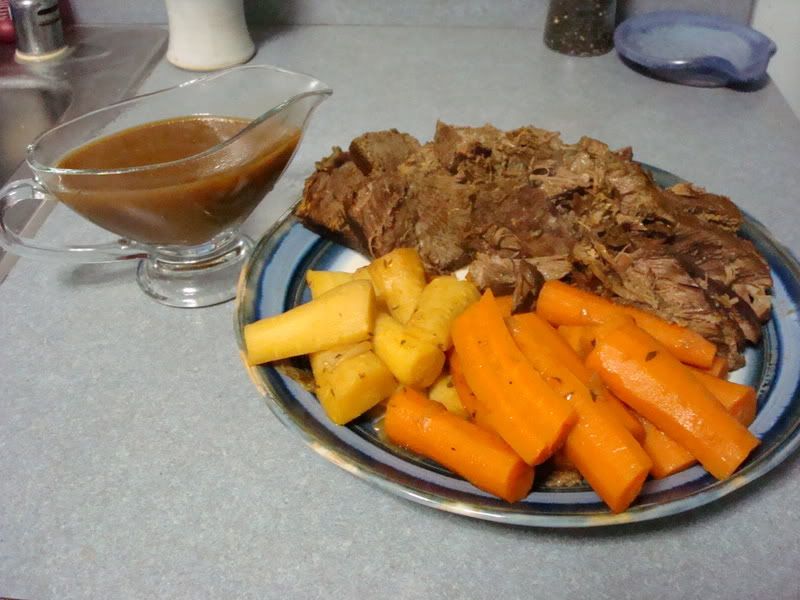 Pot Roast with Vegetables and Gravy
Adapted from
MarthaStewart.com
Serves 6-8
Ingredients:
2 tablespoons vegetable oil
1 5-pound beef chuck roast
Salt and pepper
2 cups beef stock or reduced sodium canned beef broth
1/2 cup red wine

2-3 onions, cut into large wedges
4 cloves garlic , chopped
2 dried bay leaves
1 teaspoon dried thyme or 2 teaspoons fresh

2 tablespoons tomato paste
2 pounds carrots, cut into 1 1/2-inch chunks

2 pounds potatoes, cut into 1 1/2-inch chunks (I left these out this go 'round because I had a craving for mashed potatoes, but I did add a few parsnips instead)
1 tbls flour
1/4 c. water
Special Equipment:
Directions:
Preheat oven to 350. Heat oil in dutch oven over medium high heat. Sprinkle roast with salt and pepper. When oil is hot, brown meat on all sides. Be patient and let it get a nice sear.

Turn meat fat side up if you can (the roasts never seem to be cut correctly). Add broth, wine, onions, garlic, bay leaves, thyme and tomato paste. Stir liquid as best you can and bring to simmer.

Cover and put in oven. Roast for about 2-3 hours, until you can pull/shred a corner fairly easily with a fork. Add vegetables and continue to roast another 45-60 minutes. When done, roast should come apart very easily.
Remove vegetables to a platter. Remove meat to a cutting board. Cover both to retain heat. Strain remaining juices in dutch oven and remove fat. Bring to a simmer over medium heat.

Make a slurry of the flour and water. Quickly stir in to simmering juices. Simmer and stir until thickened. Slice roast and serve.
Yes, I went to the gym today. Why do you ask?